Hello,
today it's my turn to write a new blog post. During my exchange year in Chile, I wrote another blog that was in German only, anyways I loved it to write personal posts about my feelings. That's something I haven't done yet on this blog but now is the time to do it again.
Travelling is a strange thing to me. My feelings always change between "Fernweh" and homesickness. When I was still at home I had this very strong feeling – the desire of exploring the world – now that I'm travelling for nearly four months there is this new feeling of very strong homesickness. But it's different to the homesickness that I felt in Chile. My mood changes between the strong desire of exploring new places and the sad feeling of wanting to catch the next flight home. Home – where the people are that I love. I've never noticed that it's so important to me to talk to my family, Felix' family, and my best friends. But I guess that's what I miss most. To talk to all of them in person not just via phone and skype. I know I've got the best boyfriend in the world by my side but it makes me crazy to talk to nobody but him.
It might sound crazy that I'm so far from home, exploring the world and experiencing cool things every day and I'm not happy. Anyway, it's not true that I'm not happy I just feel like I'm marking time. Especially when we are looking for apartments in Augsburg or when we're talking about going to University next year. There are so many things we want to do and organize but we can't do it over here and it crazes me!!
However, walking, grabbing a coffee or exploring new things can turn the homesickness into the desire of exploring new things – at least for a while.
I think what makes it better no matter what is the sea because during our time in the mountains the feeling was stronger.
For two weeks we've been back at the sea. After three days in Lake Entrance, we continued our travel to Melbourne. Our first stop was Raymond Island. It's an Island 30 minutes from Bairnsdale where you can see Koalas in their normal territory. It's really incredible to see the koalas like this and not in a zoo!
The next two nights we spent on free camping spots. One was in a really nice location by a lake, the other one was near the sea. As usual, there was really heavy rain and we thought the world was going down. We can't believe how it's possible that it always rains wherever we are. It seems like we're attracting the bad weather.
After those two camping spots we wanted to go to Wilsons Promotory National Park but again the weather was too bad so we grabbed some coffee in a café.
On our way to Melbourne, we passed by Phillip Island. This island is known for its penguin parade every evening. At first, we thought it would be like at Cape Hillsborough National Park where we could just the kangaroos without interrupting them in their normal life. At the penguin parade, it seems to be different the penguins are exploited for the tourist. So we decided not to go there. Instead, we went to "the Nobbies" a really nice long boardwalk at the western end of Phillip Island.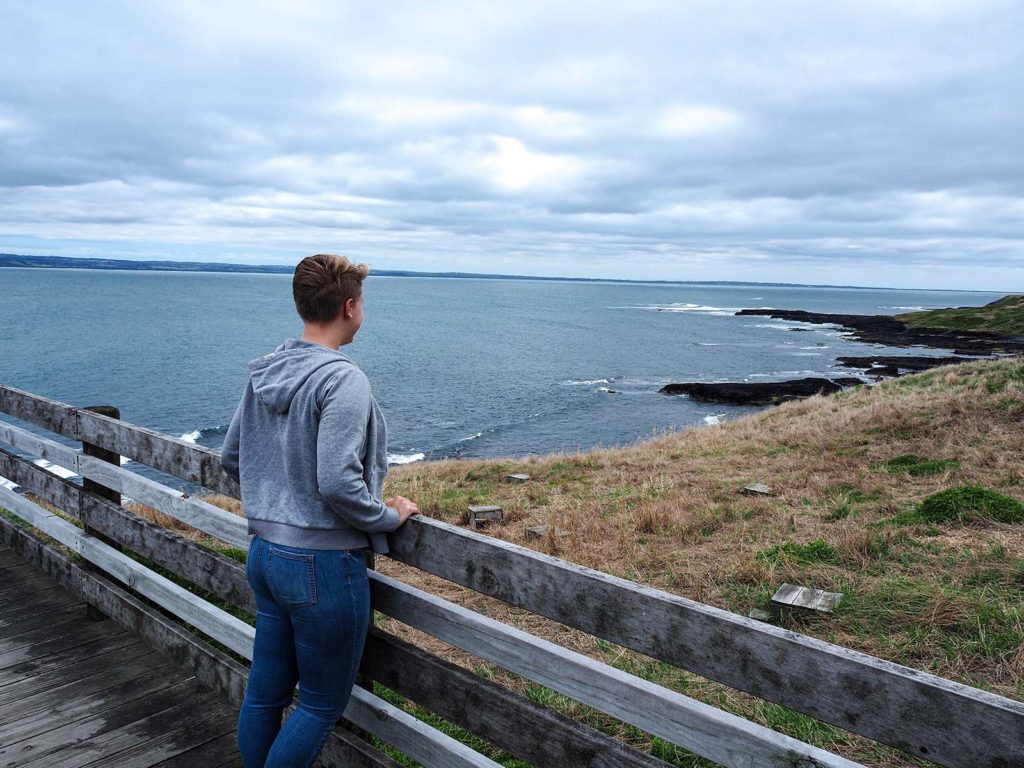 The next day we went to Mornington Peninsula in the South of Melbourne. That's where we found a really beautiful beach. Better have a look by yourself:
Since Wednesday we're in Melbourne but we're going to write about this the next time as we're exploring Melbourne again today.
See ya'
Fiana
---
Follow us on Instagram for daily travel updates:
Did you already read Felix's blog post on our time in Australia's capital and beautiful national parks?