In 2020 we went on an epic 10-day train trip from Germany through Hungary, Romania, Serbia, Montenegro, and Albania. We had an amazing time with two of our best friends! If you're planning your European train trip, make sure to add this to your route. And to be honest, you could easily spend a whole month on this trip – so if you have the time, consider prolonging it!
During our time in Southeast Europe, we tried taking trains wherever it was possible. On some routes you won't find any trains like from Romania to Serbia, in these cases we change to buses. All our accommodations we booked through Airbnb – we'll like you the Airbnbs below each day.
Day 1 & 2
From Germany to Budapest, Hungary
Wherever you start your trip, make sure to arrive in Budapest as early as possible. Doing so, you'll have the rest of the day to explore the city! If you start your trip in the South of Germany as we did, you can take a train from Munich to Vienna and from Vienna to Budapest. We decided to get up early and arrive in Budapest by 1:30 pm.
48-hours in Budapest
Budapest is an amazing city to visit for a few days. You will be able to find really astonishing architecture and a hip plus cheap coffee and food scene! We loved walking around the city, having coffee in small specialty coffee shops, and trying amazing food.
Our full list of things to see, eat and drink in Budapest:
Where we stayed in Budapest:
Day 3
From Budapest, Hungary to Timisoara, Romania
On your third day, take the morning train to Romania. You will need to buy your ticket at the Budapest train station before you leave. We highly recommend doing it the day before, just in case the ticket office is still closed at 7 am.
It will take you around 6 hours from Budapest to Timisoara where you will be able to spend the rest of your afternoon.
Afternoon in Timisoara
It is a sleepy yet beautiful Romanian town in the western part of the country. The architecture of Timisoara is picturesque and you'll be able to find many old, historical buildings around the city.
We have written a full guide of things to see, food to eat and coffee to drink in Timisoara, Romania:
Where we stayed in Timisoara, Romania:
Day 4 & 5
From Timisoara, Romania to Belgarde, Serbia
After spending the morning in Timisoara and having another tasty coffee, take the bus to Belgrade, Serbia. Sadly (as of 2022), there are no trains crossing the border between Romania and Serbia. Therefore, you have to take a bus from Timisoara to Serbia.
There are many different bus operators offering this route. We booked a minibus with Gea Tours. Before our trip we texted them on WhatsApp, telling them when and where we want to be picked up and where they should drop us off. On the day of the trip, we were picked up on time and dropped off at our Airbnb in Belgrade.
Spending 48-Hours in Belgrade
Before arriving in Belgrade, we had no idea about the city. We simply thought it would be cool to visit. We ended up walking around the city a lot, exploring the fortress, window shopping in the city centre, visiting different churches, and having coffee.
Where we stayed in Belgrade:
Our Airbnb in Belgrade was okay. It was located in the city centre and we could reach everything on foot but the place itself wasn't that nice. It smelled like cold cigarette smoke in the whole apartment. If you don't mind that though, we can still recommend the place!
Day 6
From Belgarde, Serbia to Podgorica, Montenegro
The longest train ride on the whole trip and also the most beautiful! After almost a week on the road, you will board the train to Podgorica, Montenegro. We recommend taking a taxi to the train station as it is a few kilometres away from the city centre. Since you have to buy your ticket at the train station, better get there a bit early.
Make sure to bring enough water and snacks as you will spend the whole day on the train, passing by amazing landscapes, mountains, forests, and small towns.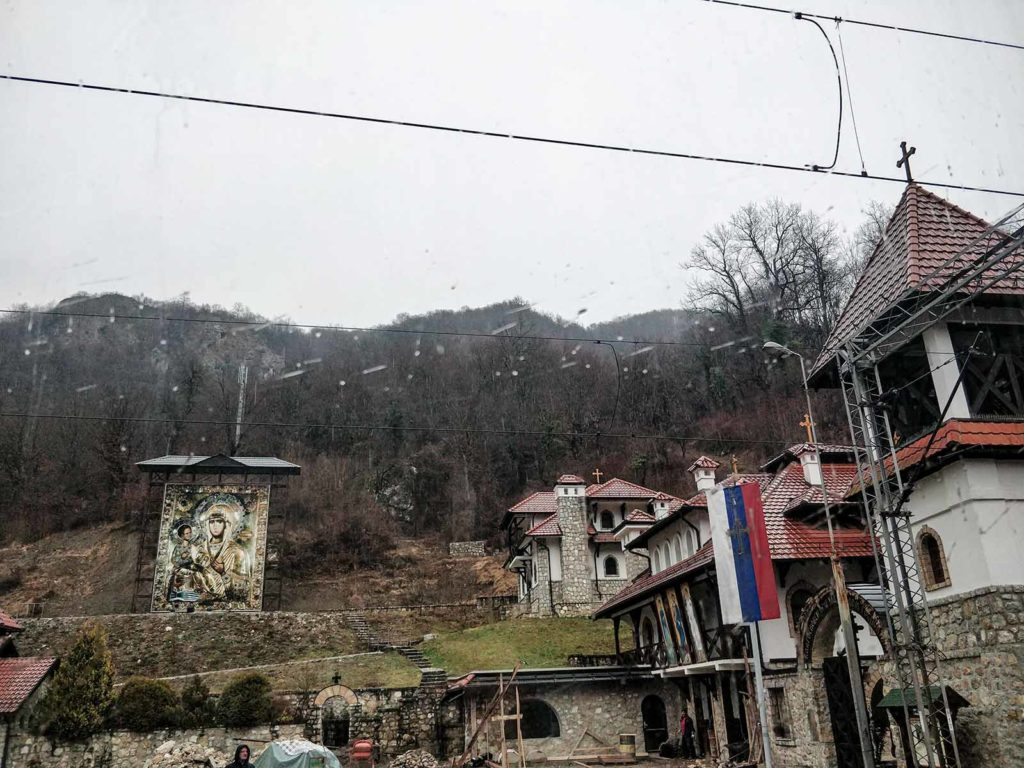 Where we stayed in Podgorica:
Day 7
From Podgorica, Montenegro to Shkodra, Albania
Since you will arrive in Podgorica pretty late in the evening on day 6, you can use the next morning to explore the city. We were really surprised by Podgorica. Walking through the old town feels like being in a small village but once you leave the old town, you will find large houses, shows, and traffic everywhere. Still, we experienced Podgorica as quite sleepy.
After exploring Podgorica, hop on the bus to Albania. Since there are no trains running from Montenegro to Albania, you have to take the bus. Just go to the bus station in Podgorica and buy your bus ticket there. After a few hours, we arrived in the small town of Shkodra.
Afternoon in Shkodra
Use your afternoon to explore the town of Shkodra. We recommend walking around the city and just getting lost in the streets. Shkodra was different from the cities we visited on our trip – it felt more rural and we could see that it is one of the poorest countries in Europe. We came across many buildings that weren't in such good condition anymore and we encountered many street dogs.
Our hostel in Shkodra:
This was the only city we decided to book a hostel instead of an Airbnb. The hostel was incredibly cheap and we even got a yummy breakfast.
The original plan was to take different trains in Albania to visit the capital and then drive along the coast. Unfortunately, when we were there the trains weren't running. Hence, we decided to return to Montenegro and spend our time on the Montenegrinian coast instead.
Day 8 & 9
From Shkodra, Albania to Budva, Montenegro
After having a tasty local breakfast at our hostel, we took a small bus from Shkodra to the Montenegrinian coastal town of Budva. To catch the bus, just wait in the city centre at the bus station towards Montenegro. At some point, the bus will come and pick you up and you can buy your ticket directly from the driver.
First hours in Budva
We fell in love with the city of Budva! It is such a cool town located directly by the Mediterranean sea. Walking around Budva's old town is simply stunning!
Coffee and Food in Budva
The next day, you should spend some hours walking around the old town and having a coffee at Blue Cat Art Cafe. The owner of the café is such a nice guy and the coffee is pretty decent as well.
Afterwards, take a walk along the coast to see the Budva Dancing Girl. If you continue walking, you will get to a cave through which you get to another secluded beach.
Our Airbnb in Budva:
Day 10
Flying back (to Germany)
Originally we had planned to continue our train trip through Bosnia and Herzegowina, Croatia, and Slovenia back to Germany. But due to the pandemic, we had to fly back to Germany early. Hence, if you have more time you could extend the trip and make your way back by train and bus as well!
From the coastal town of Budva, you can take a one-hour bus to the capital. Arriving in the capital you can take a taxi from the bus station to the airport which should normally take around 15 minutes.
---
---
Click here for more travel guides and travel inspiration:
---
Do you want to get daily travel updates?