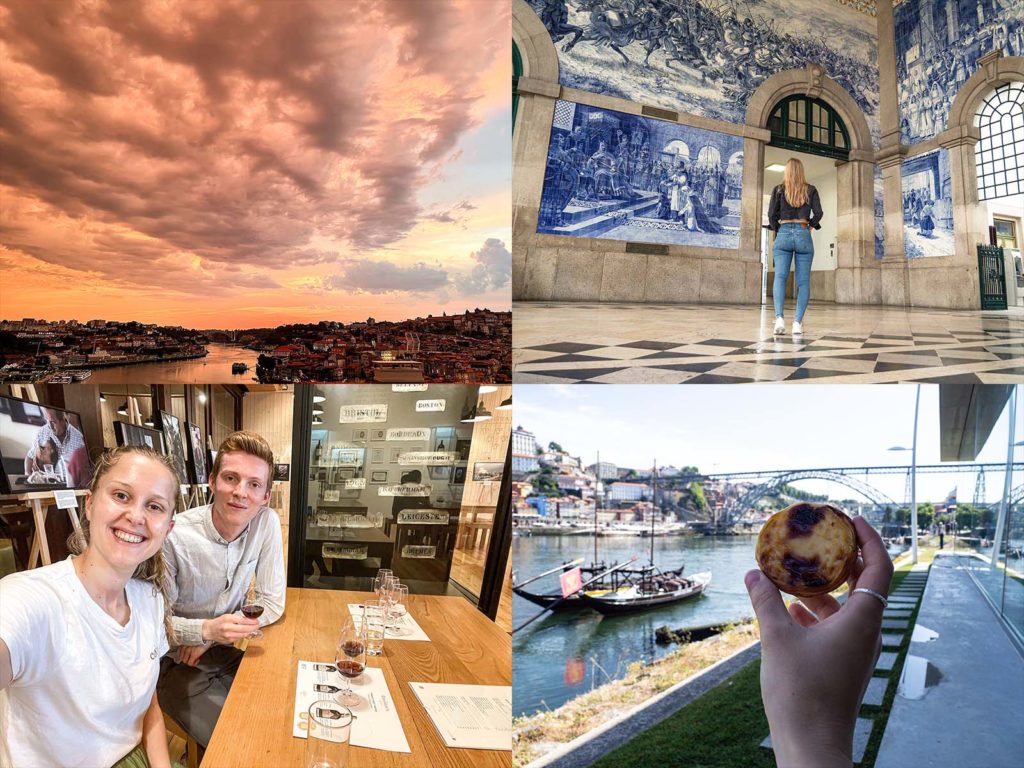 In case you're just looking for a short overview of the best coffee in Porto, you can find our list here: Best Specialty Coffee in Porto
---
During our time in Porto, we filmed several YouTube videos, you can find the first one here:
---
Last year, we lived in Porto for a month and writing this blog post we already miss the city a lot! Being there for four weeks allowed us to try many restaurants and bars, try the best coffee in town, find the best photo spots, and watch many epic sunsets. But hey, let's just dive into a long weekend in Porto…
How to spend your long weekend in Porto?
DAy 1 – YOur first day in porto
Good morning in colourful Porto! Let's start the day with the most important thing – coffee! Put your shoes on and take a morning walk to Fabrica Coffee Roasters. On your way to your morning coffee, you will already notice how colourful the city of Porto is. So many buildings have the typical picturesque tiles!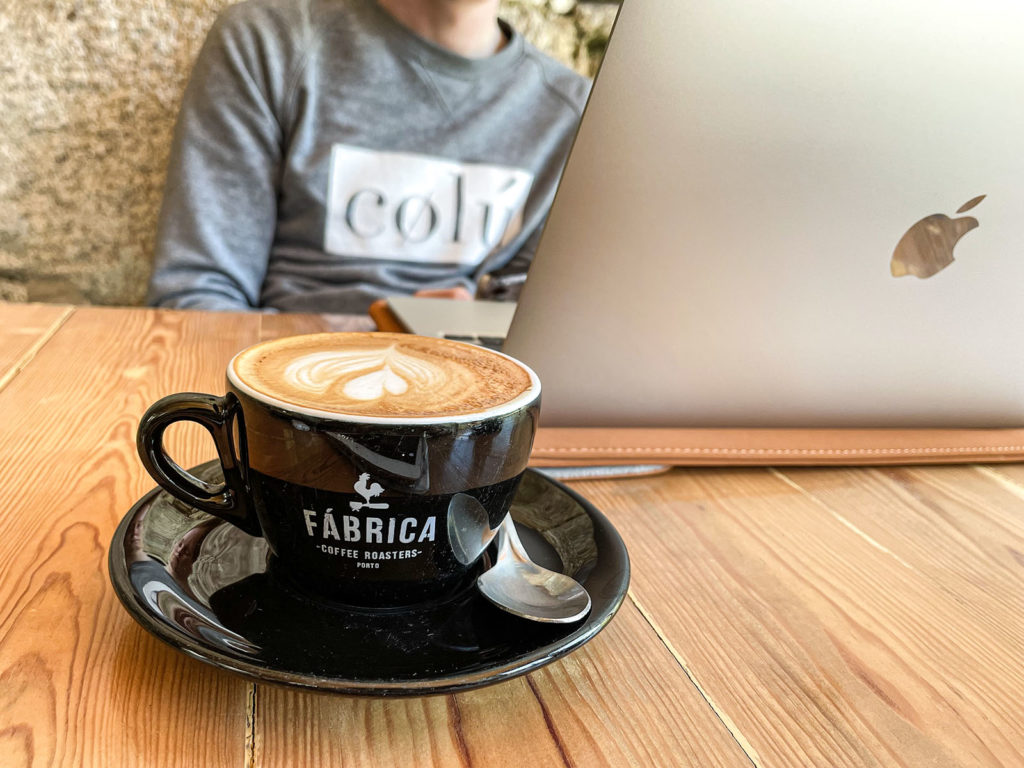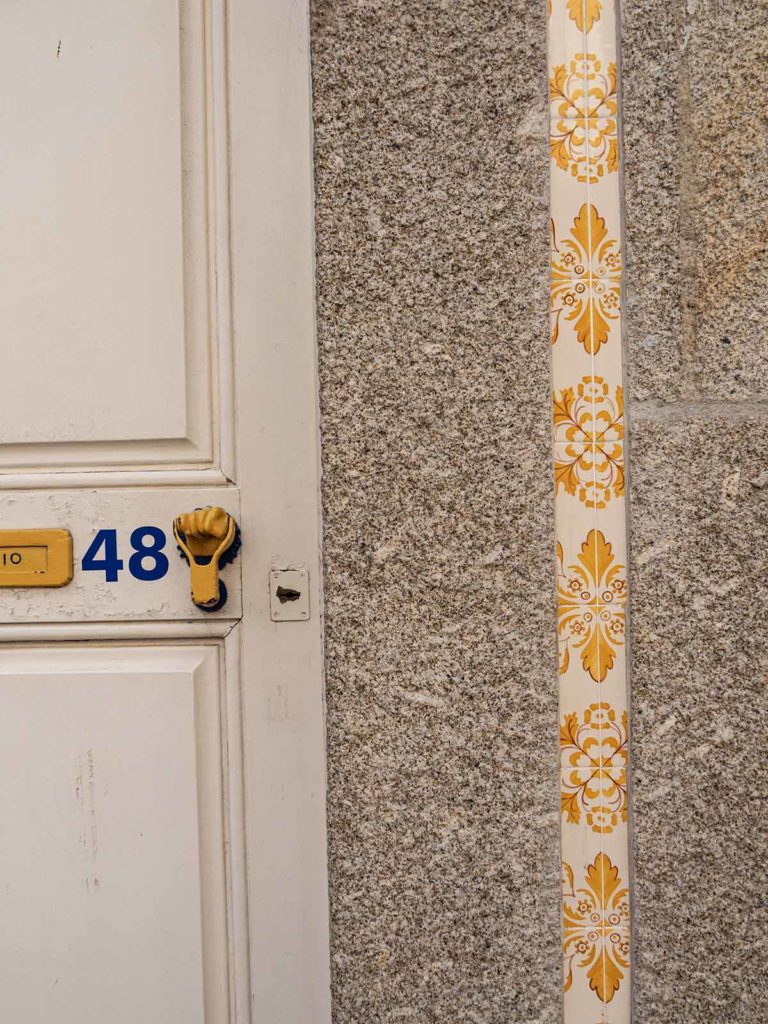 After enjoying your morning coffee at Fabrica Coffee Roasters, it is time to get lost in the city! Head over to the University of Porto and pass by Igreja do Carmo which is a baroque church with an insanely beautiful facade in blue and white. Take a few minutes to sit in front of the University of Porto at Jardim de João Chagas. Every now and then, you will see one of the old, yellow trams passing by. From there, cross the street and you will stand in front of Clérigo Tower – for panoramic views of the city, walk up the 76-meter high bell tower! Are you back down yet? Alright, then let's go and walk down to the water with Parque de Virtues as our first stop along the way. From there you can head down the steep roads, pass colourful buildings, and many churches until you reach Cais da Estiva. Here you can enjoy your first view of Ponte d. Luis I!
Have you already walked up an appetite? Then we think it is time to head for lunch! But before you get there you need to walk back up the hill and why not do this through tiny-winding streets. Use Cerca Velha for your orientation to get to Sé do Porto walking along the cute streets!
Francesinha for lunch
For lunch, you will go to Café Santiago to have Francesinha, a super typical dish. Getting to Café Santiago, you have to make sure to use the correct entrance at Rua de Santo Ildefonso. You can either take one of the seats inside or, when the weather is good, enjoy lunch outside. Francesinha is a heavy dish, it is called a sandwich but after eating it you won't feel like you have eaten a normal sandwich. The dish is wet-cured ham, fresh sausage, and steak between toast, fully covered with cheese and an egg on top, served with fries (picture on the left)! If you're looking for a vegan version of Francesinha, head over to O Porto dos Gatos (picture on the right) – we would say the vegan version does not leave you with such a heavy feeling but still it is not a light lunch.
Now that you are full and happy it is time to walk across Ponte d. Luis I. Looking at the bridge, your first thought might be wow, it really has similarities with the Eifel Tower. And guess what, a student of Gustav Eifel actually constructed the bridge! When you walked across the upper part of the bridge, you can make your way down to Marginal de Gaia. From this site of the water, you have an amazing view of the old town of Porto.
Now that you arrived at the water, you will notice all the old boats, anchored at the side of the river. All of these boats used to be transport boats for port wine which is produced in the Douro Valley and then stored in the wine cellars in Villa Nova de Gaia. As Porto is only a few kilometres away from the ocean, a lot of seagulls make their way into the city, swimming on the Douro river.
Best sunset spot in Porto
When it is time for sunset, head back up to Jardim do Morro, next to Ponte Luis I on the Gaia side of the river. Sitting in the park is the BEST spot to watch the sunset over Porto. You will see a lot of locals spending their evening with a beer or a soda, sitting on the grass and watching the sunset.
Since lunch was massive, we would recommend only having some Sardinhas Assadas for dinner. You will find them in a lot of restaurants across the city!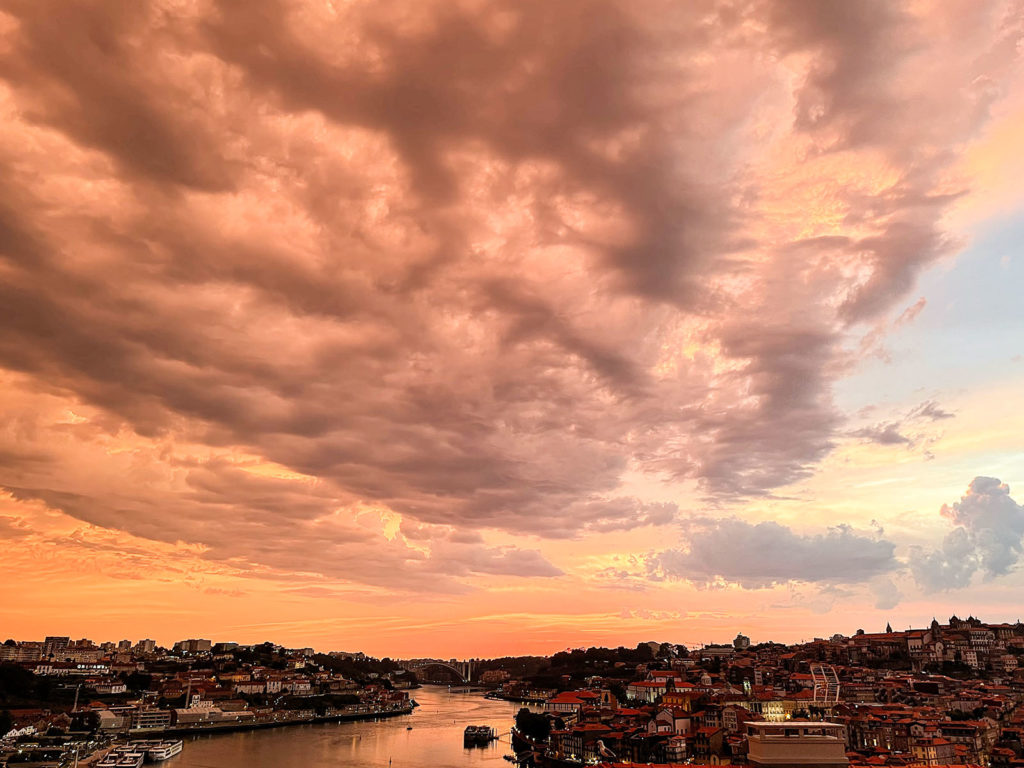 DA 2 – The day when you try Pastel de nata
It is day two in Porto and today is the day to try Pastel de Nata! Our favourite spot for an outside breakfast with Pastel de Nata and takeaway coffee is on the Gaia side of the water. So, the first thing this morning is a walk to Manteigaria at Rua dos Clérigos. They open as early as 8 am, hence, even if you like to get up early, you can buy your first Pastel de Nata there. With your Pastel de Nata or several Pasteis de Nata in your pocket, take a walk down to the Duro River by using Escadas do Codeçal. The side road will lead you down a staircase to the lower part of Ponte d. Luis I where you can cross to the other side of the river. Now, walk a few more minutes to 7g Roasters and grab yourself an extremely good cappuccino. Are you looking for a vegan breakfast? They usually have vegan muffins! With your Cappuccino and your Pastel de Nata head back to the water and enjoy your breakfast, sitting at the Duro River, overlooking Porto.
With breakfast in your belly and coffee in your veins, it is time to take the iconic tram 1 at Infante Station. This might be a super touristy thing to do in Porto but the route tram 1 takes along the water is really beautiful! Make sure to grab a seat at the left side of the tram to have a direct view of the river. About 20 minutes later you will arrive at the ocean! Walk to the beach and breath in the salty air and feel the light breeze of wind on your skin. Take a few minutes to just sit there and enjoy the sound of the waves.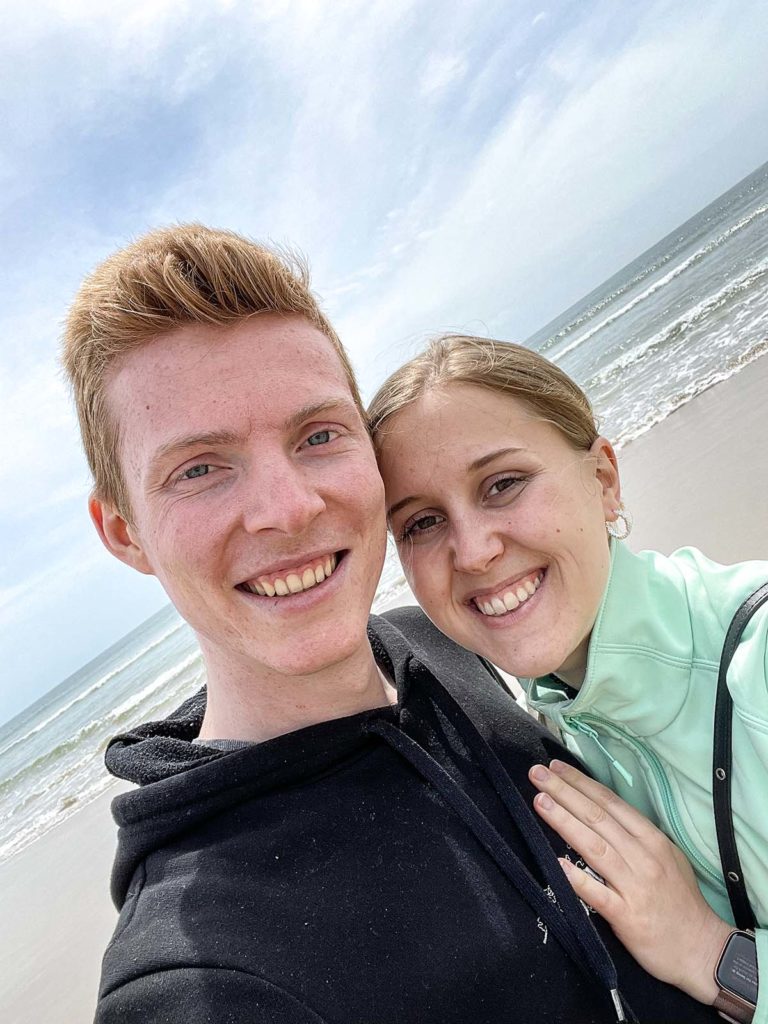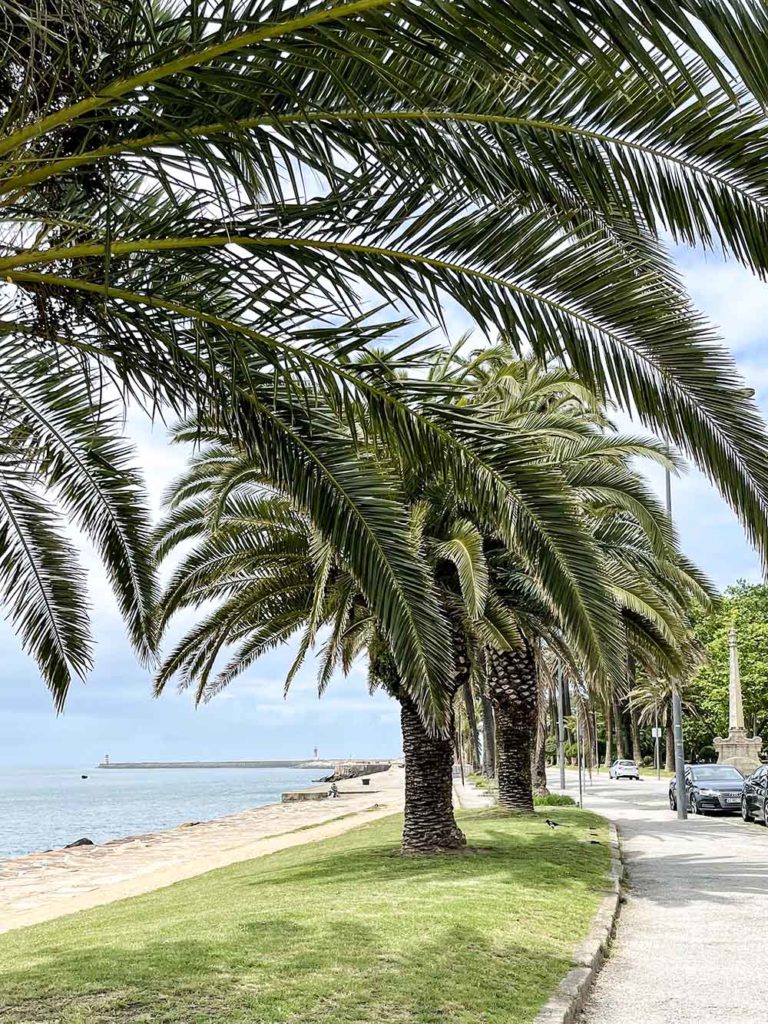 After looking at the iconic 19th century Farolim de Felgueiras, you can either walk back to Porto or enjoy the views from tram 1 once again. Walking back will take you about 1 1/2 hours along the river. It is a nice walk, as you will pass by the water the whole time but just a little warning, large parts of the way are next to the street if you are not a fan of that better take the tram.
Pasteis de Chaves for lunch
After walking back from the beach, it is time for lunch. Today's lunch is another traditional food but this time something less heavy than Francesinha – Pasteis de Chaves! To get to an awesome place for your Pasteis de Chaves, you need to walk back up the hill – wow, didn't know Porto was so hilly… well maybe compared to Lisbon it isn't though. When you walk to the A Loja dos Pastéis de Chaves at Rua da Firmeza for lunch, you will come by São Bento Station which is an incredible place! But don't worry, you will go there on your last day in Porto. Walking further, you will also pass by Mercado do Bolhão which is the historical local food market. When we were in Porto, it was closed for renovations but if you are lucky, it is open again for your trip. Pasteis de Chaves is a clam-shaped baked good, made out of puff pastry filled with either fish or meat. It kind of reminds us of a fluffy croissant filled with fish or meat.
If you don't want to eat your Pasteis de Chaves inside the shop, you can also head to Jardim Marques de Oliveira, a park with many benches where you can sit and enjoy your lunch. In case you don't want to have Pasteis de Chaves for lunch but are looking for something vegan, I recommend going to Odete Bakery. They have a lot of baked goods and even vegan Pastel de Nata! Another place with probably the best vegan pastel de nata is daTerra Baixa. After lunch, I think it is time for a second coffee. Walk over to Combi Coffee Roasters for another really good cappuccino!
Port Wine Tasting at Graham's Port Lodge
This afternoon you will go a get a taste of what Porto is known for – Port Wine. There are a lot of port wine producers on the Gaia side of the Douro river. We recommend going to Graham's Port Lodge. It is not located directly at the waterfront but a few meters up the hill which makes it less touristy. You can take a tour of the wine cellar and learn about the process or producing port before heading into the tasting room.
Maybe don't drink everything from your glass, you might end up a little tipsy and we still have plans for the evening. But honestly, tasting the different kinds of port wine is super interesting as you can taste a huge difference depending on the type. What is important though, make a reservation for your wine tasting!
Dinner in São Pedro da Afurada
The last thing on our agenda today is dinner in the town of São Pedro da Afurada. A 30 minutes walk away from Graham's Port Lodge, on the edge of the Douro River, you will find this small town. From the moment you walk into the two parallel streets, you will smell freshly grilled fish, hear people talking and laughing, and feel beamed into the vibe of a small fisher town. Before deciding on your go-to place for dinner, take half an hour to walk along the streets and soak in the vibe. To actually sit down and have dinner we recommend Taberna São Pedro and having sea bream. After dinner, either order a taxi or enjoy an evening walk across the boardwalk along the river.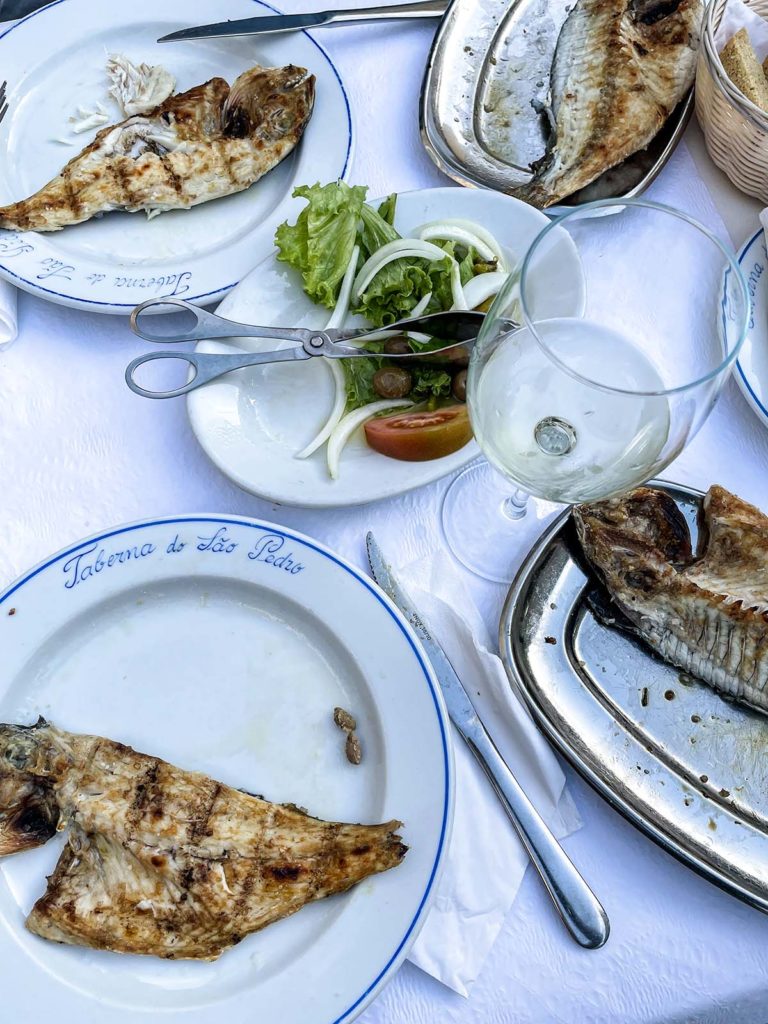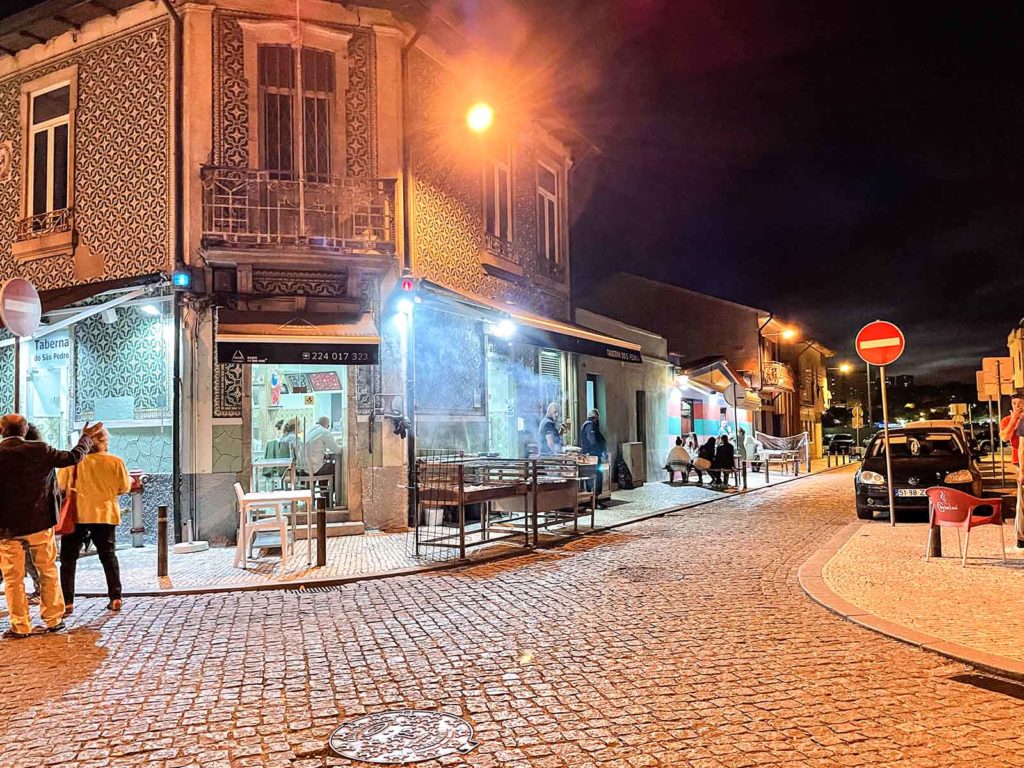 Day 3 – Did you fall in love with the city yet?
Wow – it is already your third day in Porto. Did you fall in love with the city yet?
Today you will take a half-day trip to the beach. But before getting there we need to make sure you are filled with coffee! Today's coffee will be provided by C'alma. They don't only have amazing coffee but also super tasty croissants and pastel de nata for breakfast. Make sure to either have a large breakfast or buy another croissant for take-away as you will now head to the beach.
Getting to the beach
To get to the beach, walk across Ponte de Luis I to the train station General Torres. From this station, you can take the train Aveiro 15912 to Ovar and get off at the station Miramar. The train ride will take you in 15 minutes to this cool beach! Get off at Miramar and walk straight until you almost fall into the ocean. Now that you arrived at Praia de Miramar, you will be able to breathe in the salty air again. Also, you will find a chapel, Capela do Senhor da Pedra, that is located on the beach. Seriously, we have never seen something like this before. If the weather is good, you can take a dip into the ocean and just enjoy the sun at the beach. In case you want to go for a little walk, there is a boardwalk that stretches along the waterfront, which you can take.
After getting back from the beach, take some time to refresh before heading out for dinner. One of our favourite places for an evening in Porto is APuro. It is a vegan bar in the centre of Porto that serves amazing burgers and really good wine. Every now and then they have live music from local artists which makes an evening in Porto perfect. Check out there Instagram to see if another live music event is coming up.
Day 4 – Time to explore the most iconic buildings
It is your last morning in Porto already, time to explore another café. Let's head to So Coffee Roasters. They serve such a good coffee and also have different food like croissants, pastel de nata or overnight oats for breakfast. Now that we are filled with coffee, it is time to explore some iconic sights.
First, São Bento Station!
Your first stop is São Bento Station. Before seeing the train station, we thought it might be overly hyped. But seriously, this 20th-century railway station is covered with 22 thousand blue and white tiles, making it probably one of the most beautiful railway stations in the world!
After taking your pictures at the station, head out to see the wall of Igreja de Santo António dos Congregados, next to São Bento Station. Turn right at the church and walk up Rua de 31 de Janeiro to get to Santo Ildefonso Church. The church dates back to the 18th century with its blue and white coloured tiles added at the beginning of the 20th century.
The amount of beautiful churches in Porto is simply insane. When you walk into the street to the left of Santo Ildefonso Church and continue for about 10 minutes, you will arrive at Chapel of Souls which is probably the most stunning of all walls in Porto.
Is it time for lunch already? If you are hungry, head over to The Happy Nest. This café has an amazing garden to enjoy your lunch. You can order a bagel or a croissant from their menu and enjoy it with your coffee.
After lunch, it is time to take some cool pictures at Miradouro das Fontaínhas and Passeio das Fontainhas street with the Ponte d. Luis I in the back and then head over to the Funicular of Porto. You can take it from Batalha station down to Ribeira for only a few euros. After taking this cool ride down to the waterfront, spend the rest of the afternoon walking along Ribeira and get lost one last time in the winding streets of Porto oldtown.
Finish your long weekend with a glass of wine
To finish your long weekend in Porto, head down to Douro River and enjoy a glass of wine at Wine Quay Bar. The owner of the bar will be happy to assist you in choosing the right wine for your taste and you can accompany it with olives and some cheeses. Is there any better way to end your time in Porto than with a glass of wine, overlooking the Douro River and seeing the sky turn yellow and red?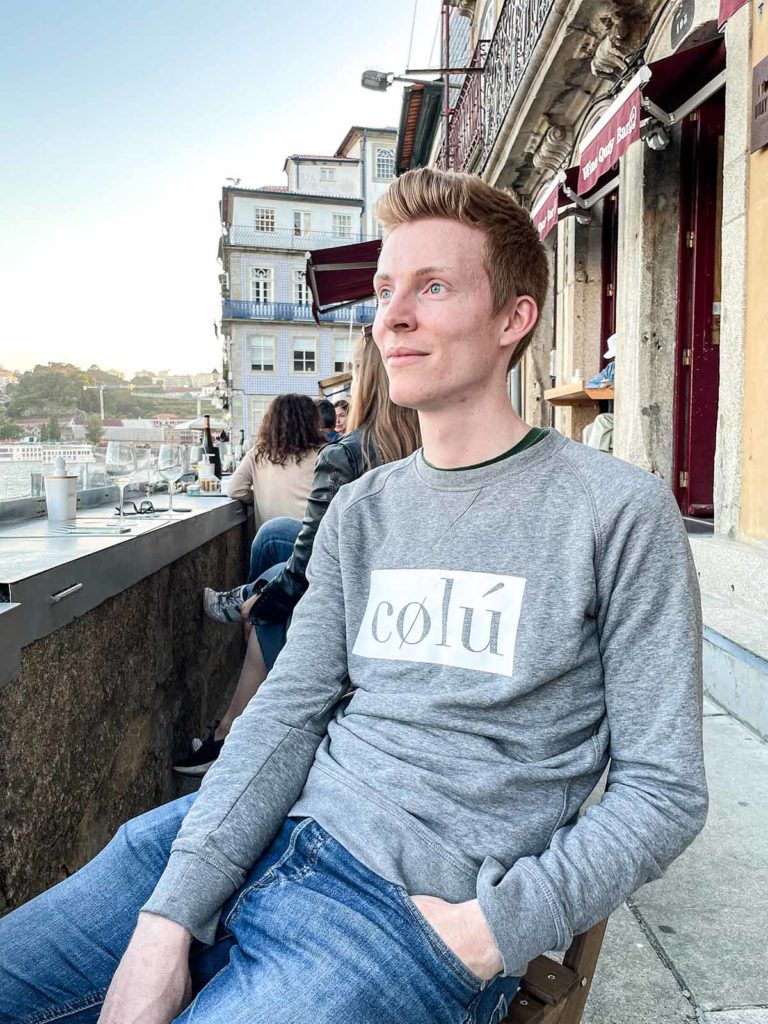 If you have any other suggestions for amazing food, drinks, and places to visit, leave them in the comment below! And make sure to tag us in your Instagram story when you visit Porto.
---
Follow us on Instagram for daily travel updates:
And if you are looking for the best food and coffee in Lisbon, check out our blog post: