While we lived in Porto for a month, our goal was to find the best coffee and explore all the amazing spots to visit. Here you can find a list of all the cafés we've been to. But already in advance, our favorite two are Fabrica Coffee Roasters and 7g Roasters. If you're looking for an itinerary on how to spend 4-days in Porto, check out our long Porto guide:
---
If you don't only want to read about Porto but actually see it, we have filmed a YouTube video during our time. Check it out:
---
Best coffee in Porto
1. Fabrica Coffee Roasters
Our all-time favourite café in Porto is Fabrica Coffee Roasters. Their coffee is extremely good and for a vegan option, they serve Oatly oat milk. Also, you can work on your laptop for hours and just enjoy the vibe of the café.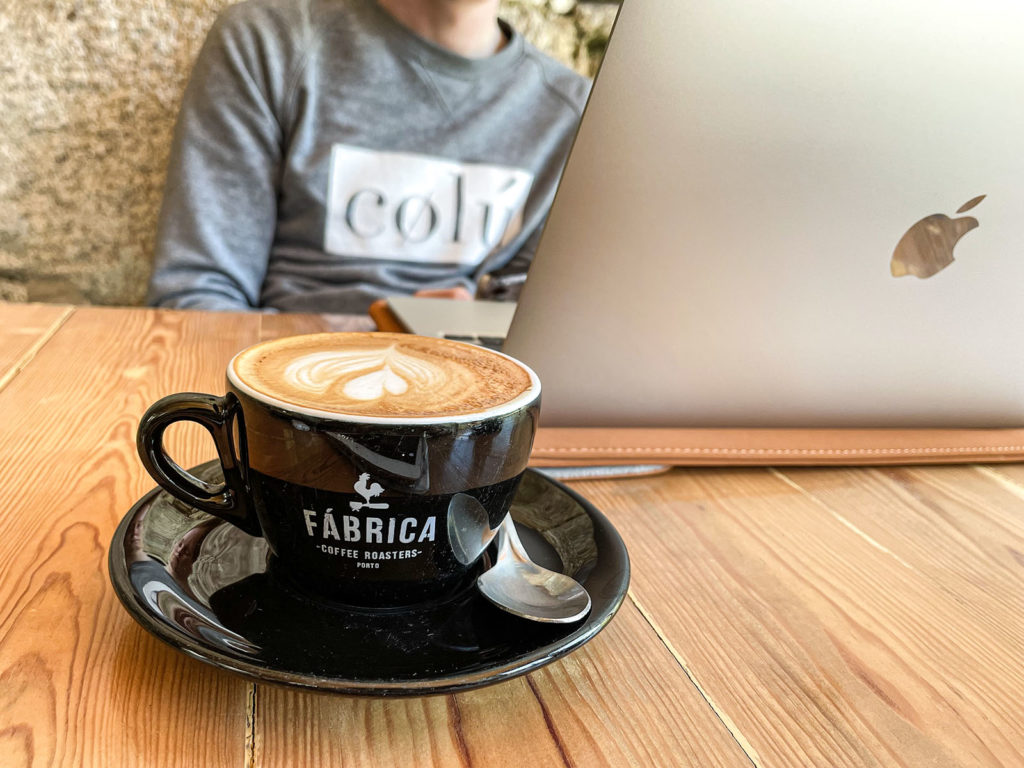 2. 7g Roasters
7g Roasters is located on the Villa Nova de Gaia side of the Douro River. The café is part of a hotel but don't worry, you can also just grab a coffee. Since the place is quite spacious, working on your laptop is no problem. Or you can just grab a takeaway coffee and walk to the Douro River and enjoy your coffee while watching the Ponte de Luiz I.
3. Combi coffee roasters
Combi Coffee Roasters is also one of our favourite cafés in Porto. The café is normally packed with locals, grabbing a coffee and having a chat. Highly recommend checking this place out!
4. C'alma
C'alma doesn't only have amazing coffee but also super tasty croissants and pastel de nata for breakfast. Their coffee is very good but they get some minus points for their vegan milk alternative. At least from Fiana's point of view, the vegan milk they had wasn't a good suitable for the type of espresso they use. But for normal cappuccinos, we highly recommend them!
5. So Coffee Roasters
So Coffee Roasters has several shops in Porto. On the first day we arrived in Porto, we went to get our morning coffee there and it was very good. We would say that it was our favourite coffee in Porto but still, the quality is extremely high! Again, a small minus point for the vegan milk they use. When we were there, they didn't use Oatly but milk that wasn't as suitable with their espresso.
6. My Coffee Porto
When we arrived in Porto in May, My Coffee Porto was still closed. We still walked past the café several times until they finally opened up for the summer season. The location of My Coffee Porto is very cool, as you can overlook the Douro River from above. The coffee was also good. Again, not our favourite coffee but still, super decent!
7. The Happy Nest
The Happy Nest is such a cute café! When you enter the café it first looks super small but walking to the back, you can enter into their garden which offers nice shadow from the hot sun in Porto. The Happy Nest has a super tasty selection of food for breakfast and lunch. Definitely recommend checking them out!
8. Mesa 325
Mesa 325 is located in a neighbourhood a little away from the centre of Porto. Hence, you will mainly find locals enjoying their coffee at Mesa 325. We really enjoyed the atmosphere of the café. Especially, if you have an Airbnb close to it, we would suggest you check it out. They also offer Pastel de Nata which you can enjoy with a good, morning espresso.
9. Do Norte Café by Hungry Biker
Walking into Do Norte Café you feel like entering another world. The vibe reminded us of an alpine skiing hut. While the café is cool, we've only been there once as we preferred the coffee and vibe of other cafés in Porto. But if you're like us and you want to check out every café in Porto, you should also go there!
---
For daily travel updates, follow us on Instagram: